ADHD (Adrenaline Racing) VERSUS PERF (Racing Performances)
Dear Perf Racers,
Here below is the official announcement of the Crew Battle versus ADHD.
Details:
-          2 X 3 tracks playlists. One Hosted by ADHD , one Hosted by PERF
-          7 versus 7
-          Non-contact mode
-          Date : 17th April 2016 8pm UTC / 22h France           Time
-          Weither : clear
-          Time : Noon
-          Each race should be 10/15 min long for a total racing time of 1h30 Max
-          Tracks:
ADHD:
Seed Circuit:
http://rsg.ms/8460a29
ð  Car: Super ; 7 laps
Chapparal Climb:
http://rsg.ms/0dd84ed
ð  Car: Sport ; 6 laps
Through The Fruitvine:
http://rsg.ms/a8e2030
ð  Car: Super  ; 5 laps
PERF tracks:
! Night At The Galileo !: Link:
http://rsg.ms/e9898a4
ð  Car: Sport ; 7 laps
Circuit de Sakura:
http://rsg.ms/edd6fc6
ð  Car : Super ; 8 laps
Banana Smoothie:
http://rsg.ms/0b74646
ð  Car: Compact ; 12 laps
Qualifying:
Date: 13th, 14th, 15th of April, +16th of April ( bonus slot only if missed one or more  the previous days )
Qualifying Will start each days at 21h France time / 7pm UTC
Process : join the private session 30 min before .
Each Qualifying races Will be non contact. Everyone Will have to make one car (moving and stop his car on leader's one) before to start each race when the timer show 00:30 sec 
Qualifying rules: You need to participate to one of the 3 days qualifying session at the minimum.
IT IS THE RACE TIME that will be taken into account and NOT best lap time.
If you want to give you more chance, you can participate to Max 3 qualifying session. Your best Race performance on each track will be kept.
To be clear, let see the following table that I hope is easy to understand and will be easy to implement with data. In this EXEMPLE green cells are the best race time of Rzodkiew on each track pending on the day. Red cell is worst time. Orange is a fruit.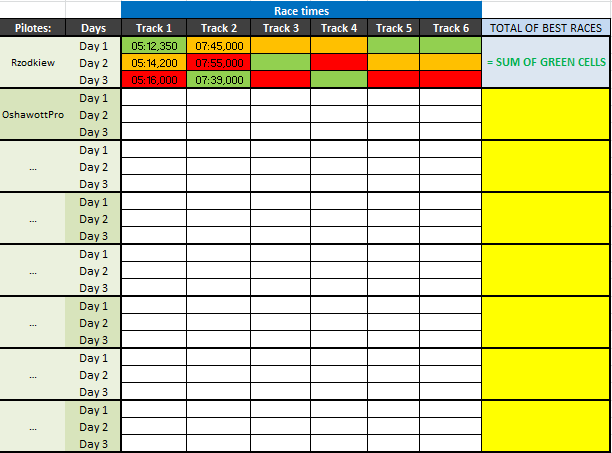 Everything is in your hands now!
Practice a lot!
Not too much (don't need you to be bored by these tracks) and share your experience with the crew!
We are all together here!
In order to have an idea of who is in, please answer to this topic saying you are in qualifying as we do for events.
Thank you and Enjoy!
Last edited by Frinke on 2nd September 2016, 9:24 am; edited 7 times in total

Frinke

Modérateur




Messages

: 263


Date d'inscription

: 2015-07-13


Age

: 33



Please say Here that You are in the Qualifying for PERF



Frinke

Modérateur




Messages

: 263


Date d'inscription

: 2015-07-13


Age

: 33



Je vais essayer voir comment je m'en sort sur les pistes mais je promet rien...

DJ_BIG_L




Messages

: 521


Date d'inscription

: 2015-07-16



I'm in for PERF's qualifying
Qualifying time and process added

Frinke

Modérateur




Messages

: 263


Date d'inscription

: 2015-07-13


Age

: 33




Oxmat




Messages

: 32


Date d'inscription

: 2015-07-11




Frinke

Modérateur




Messages

: 263


Date d'inscription

: 2015-07-13


Age

: 33



Full video from Samoura :

Frinke

Modérateur




Messages

: 263


Date d'inscription

: 2015-07-13


Age

: 33



Similar topics
---
Permissions in this forum:
You
cannot
reply to topics in this forum