EN:  Here are the results of the week 01 of the PERF F1 Event.
Except the start that was chaotic and some disconnections (including A-wes-7 who was in the top positions), the rest of the event looks good for everyone without "clusterfuck" on the first lap. Congrats to CharlesTheK1ng for winning this first race! Congrats also to Toro Rosso team for being leader of the championship after this first race!
Now everyone knows how it works by experience, I hope that next race week (in two weeks from now) will be easier to start.
I remind that we will make one WARM UP lap, then stop the car on ONE line. EACH CAR SEPARATED BY ONE CAR SPACEThank you all for participating! hope you enjoyed it and will continue to!
FR: Ci-après les résultats de la première semaine de course de l'event F1 PERF.
Sauf le départ qui était chaotique et quelques déconnections (dont A-wes-7 qui était dans les top positions), le reste de la course semble avoir était intense pour tout le monde sans gros crash au premier tour. Félicitation à CharlesTheK1ng pour avoir remporter cette première course!
Félicitations aussi à l'écurie Toro Rosso pour être maintenant leader du championnat constructeur après cette première course!
Maintenant que tout le monde sait comment ça fonctionne par expérience, j'espère que la prochaine course sera plus facile à lancer.
Je rappel qu'il y aura un tour de chauffe, ensuite on s'arrête pour former une ligne. CHAQUE VOITURE SEPAREE PAR L'EQUIVALENT D'UNE LONGUEUR DE VOITUREMerci à tous pour votre participation! j'espère que vous avez apprécié et que vous continuerez à apprécier!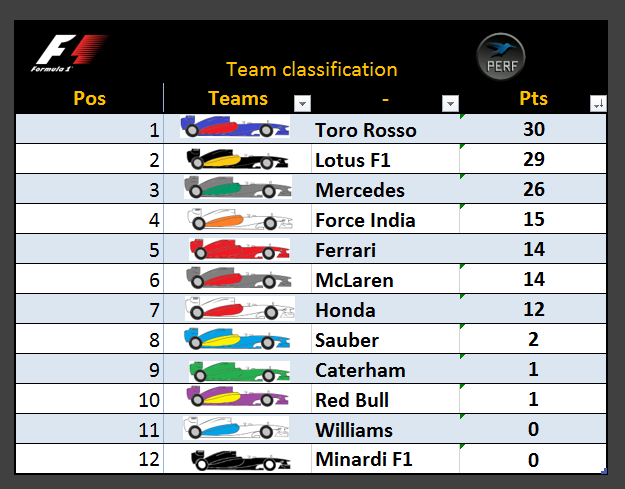 Frinke

Modérateur




Messages

: 263


Date d'inscription

: 2015-07-13


Age

: 30



Merci !!!


DJ_BIG_L




Messages

: 521


Date d'inscription

: 2015-07-16



Dexter ragequitted. I demand a penalty for him.

WhiteyWhite_




Messages

: 40


Date d'inscription

: 2015-09-26


Age

: 28


Localisation

: Germany




Frinke

Modérateur




Messages

: 263


Date d'inscription

: 2015-07-13


Age

: 30



I think i did the worse race of my entire career..i took 8 position at the start, then crashed...recoverd in 15/16 position then the racing_pug pitted me ( watch osha video, he was behind me when it happened)...battling with aurel and dj big_l and thanks 4 the little practice that i did i was going away but i crashed all the time. I still think that i'm not suited for this events, even if i'm not competitive the pressure kills me..and i have also doubts about my Internet connection. It's a bad day for me


ale_gila




Messages

: 13


Date d'inscription

: 2015-10-23


Localisation

: Italy



We need a last , someone has to be. And I m sure It Will Not be You

You ll get used to pressure

Frinke

Modérateur




Messages

: 263


Date d'inscription

: 2015-07-13


Age

: 30



Come on Red Bull ! I am with you

More points ^^

LeFouDe-M4




Messages

: 56


Date d'inscription

: 2015-08-17




---
Permissions in this forum:
You
cannot
reply to topics in this forum